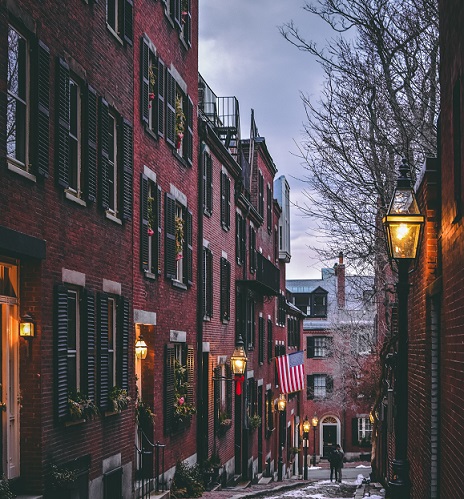 Paul Ognibene stands out in a crowd
When my daughter was very young, she had a children's book in which you were instructed to circle the thing that didn't belong.  For example, if there was a drawing that showed a motorcycle, a car, a truck and a plane, you'd circle the plane.  And if there was a drawing that showed three chickens and a hippo, you'd circle the hippo.  In almost any conversation about real estate in the greater Boston area, Paul Ognibene is the hippo.  His work with Urban Spaces, the company he founded and leads in Cambridge, Massachusetts, is almost always a trend-setter and, by the time that his ideas become a trend, he's off pursuing another venture that will help shape the real estate market for years to come.  Instead of a hippo, perhaps a gazelle or a whirling dervish might be a more apt analogy to describe Paul Ognibene.
Examples of such unique bodies of work abound across the Commonwealth.  In Allston, the innovative 1047 Commonwealth Avenue, is the largest development of micro-units in the country. In the Brighton section of Boston, Paul Ognibene forecasted and spawned the re-birth of Brighton with the development of The Lancaster. And now, the perpetual motion machine that is Paul is at it again with BRIX, now under construction, which is the first major high-end condominium development in burgeoning downtown Salem. Salem had yet to exhibit the obvious trends of a "hot market" when he recognized the potential of drawing both empty-nesters and young professionals from both the North Shore and Boston to one of the Commonwealth's most beautiful and historic cities.  Currently, Paul Ognibene and Urban Spaces are also working in the public sector and he's created a new entity, the Boston Partnership for Community Reinvestment ("BPCR").  The BPCR is emerging as a valued mass-production vehicle for developing and constructing affordable housing in some of Boston's most distressed communities.  Simultaneously, this work is creating an economic development engine by providing construction jobs to residents of those impacted communities.  Ognibene, a true innovator and trend-setter, has also become an influencer, an oracle of sorts to whom people are drawn to listen.  In that typical role for him, where his work speaks volumes about the man, Paul Ognibene is always the hippo.